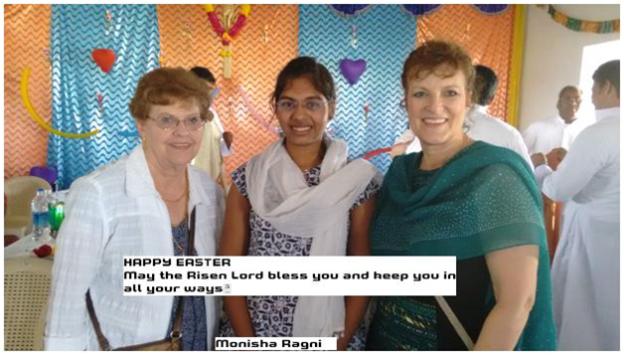 This is Monisharagni greeting you from Sullurpet, India. How are you? It's my prayer and belief that this holy season of Eastertide keeps you in good health and spirit.
As you know, I am pursuing my Engineering studies at R M D Engineering college, Kavaraipettai. I have completed my first semester exams and scored 74%. Actually I hoped to score more than 80% but somehow I missed it. But this time in the second semester I make it a point to score at least 80%.
I attended the inauguration function of the SFACE headquarters in India under the supervision of Fr.S.J.Savio and was fortunate to meet you, you daughter and your son. I was also fortunate to take a photograph along with you. I am sending an attachment of the copies of those photos.
At this juncture, I along with my family members—Mathias (my dad), Rose Rani (my mom) and P.M.Manwith Balraj (my younger brother), would like to extend my Easter greetings to you and your family members. At the same time, I would like to extend my Easter greetings and best wishes to all the sponsors in the SFACE society that does so much for the education children like me.
MAY THE RISEN JESUS BLESS YOU AND YOUR TEAM IN YOUR GOOD WORK AND KEEP YOU SAFE IN ALL YOUR UNDERTAKINGS NOW AND FOR ALL THE DAYS TO COME. THIS IS MY PRAYER FOR YOU AND YOUR TEAM.
Thanking you,
Yours as ever,
P.M.Monisharagni.